We offer unique One-Of-A-Kind bridal & baby shower favors that are handmade original designs. Our beach theme bridal shower favors offer large pearly-white seashells encasing our own fragrant handmade soaps. A perfect colorful addition to your summer beach wedding party.
Our hand-cast baby figurines are hand-painted with the most adorable faces.
We can paint any color for the skin, eyes, hair ect. The personalized gift cards can be printed in almost any language that you prefer.
We hope you will stay awhile and browse through our store. If there are any questions please email us at
To order:
goulet777@hotmail.com
Thank you,
Diane Weber, Soapmaker
We accept personal checks.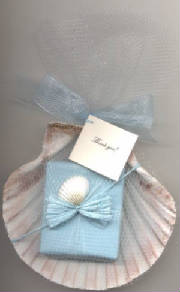 Only $3.40 each + shipping.
Beach Theme Bridal Shower Favors
Handmade Soap Gift Wrapped In Our Own Handmade Paper
Please click HERE for more details.